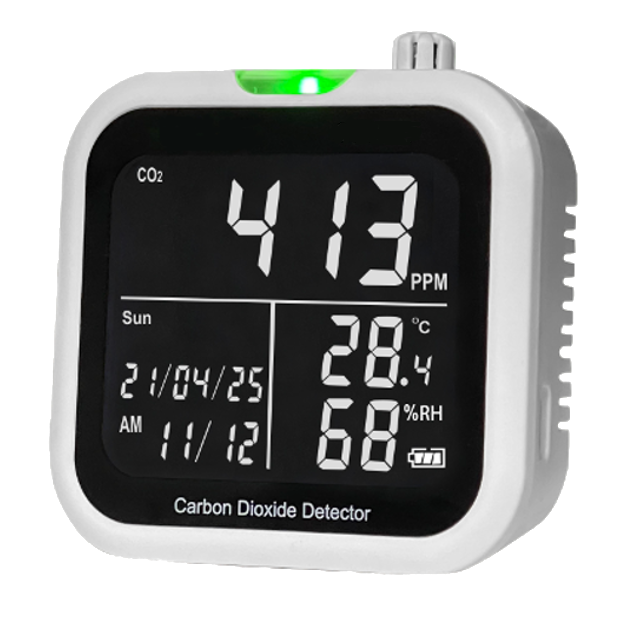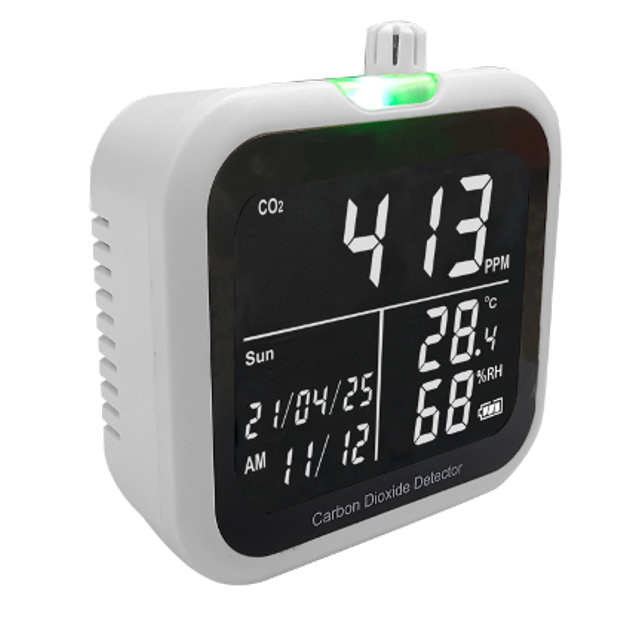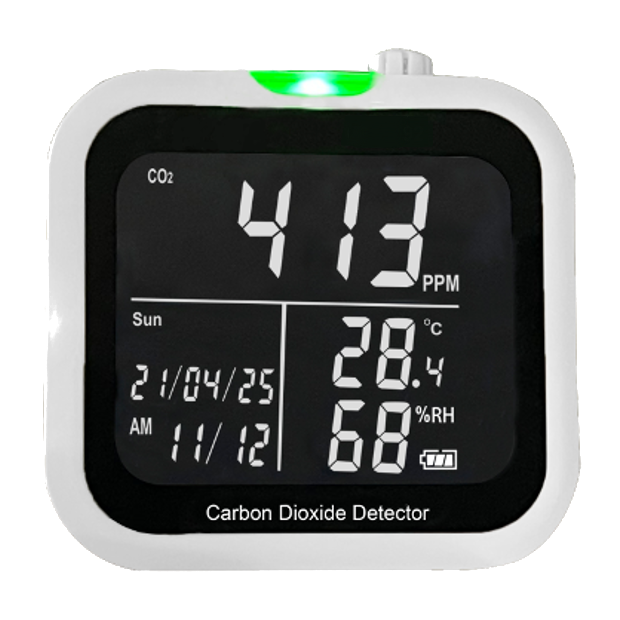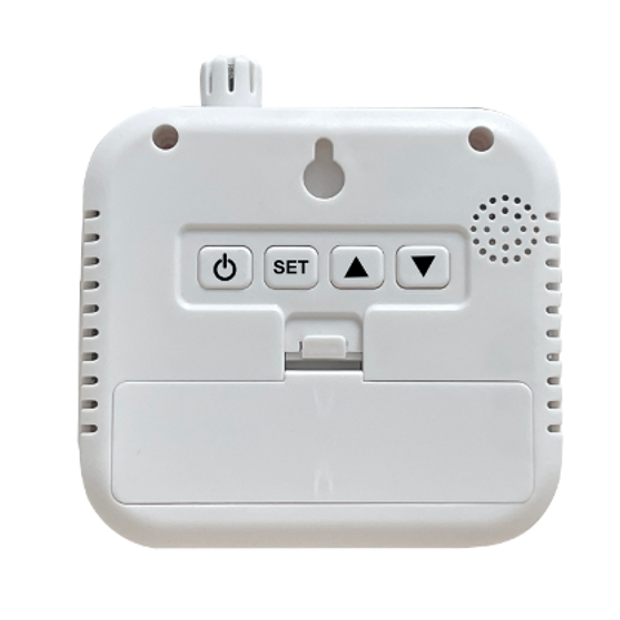 CO2 Detector
RÉF 6055
Instrument to monitor indoor air quality. Recommended to fight against COVID-19.
It measures the concentration of carbon dioxide (CO2), temperature and hygrometry in a room: an audible and visual alarm alerts when the threshold is exceeded.
The CO2 (carbon dioxide) sensor is a very good indicator of the risk of infection. When breathing in a room, people emit CO2 which accumulates and increases the risk of infection by aerosols (tuberculosis, COVID-19,...).
Thanks to its color code (green, orange, red) and the sound alarm, it allows you to monitor the quality of your indoor air to air the room regularly and thus reduce the risk of infection with COVID-19 or other disease.
This CO2 sensor brings a solution of prevention to the decree n° 2015-1000 of August 17, 2015 (Law Grenelle environment 2) relating to the methods of monitoring of the indoor air quality in certain establishments receiving the public.
Professional product, NDIR technology (non-dispersive infrared sensor)
Delivered with a USB-C cable. Optional power adapter : 6057
NDIR Technology
Non-contractual visuals and technical data, subject to change without notice
TECHNICAL DATA
CO2 Detector
Range :0 to +10 000ppm
Accuracy : +/-50 ppm
Resolution : 1ppm
Thermometer in °C/°F
Range : -10 to +50°C
Accuracy : +/-1.5°C
Résolution : 0.1°C
Hygrometry in %RH
Range : 1 to 99%RH
Accuracy : +/-5%RH
Resolution : 1%
LOGISTIC INFORMATION
Dimensions
92x36x98mm
Weight
198g
Packaging
Box
CO2 Detector
Range :0 to +10 000ppm
Accuracy : +/-50 ppm
Resolution : 1ppm
Thermometer in °C/°F
Range : -10 to +50°C
Accuracy : +/-1.5°C
Résolution : 0.1°C
Hygrometry in %RH
Range : 1 to 99%RH
Accuracy : +/-5%RH
Resolution : 1%
Dimensions
92x36x98mm
Weight
198g
Packaging
Box
products
dans la même gamme
STIL services
make it easier to use your measuring instruments.
Control & calibration
On your request, STIL can carry out the control of the desired temperature points.
À votre demande, STIL peut réaliser le contrôle des points de température souhaités.
Standard & certificate
Our activity as a specialist in measuring instruments requires a thorough knowledge of the standards that apply to our production and imports: CE, Rohs, Reach, food contact (...).
In order to keep abreast of the permanent evolutions of the regulatory context of the fields of activity in which we intervene (medical, childcare, cold chain, catering...), STIL relies on a network of independent laboratories which provide us with their assistance in France or abroad.
Contact us
Please fill in the form below: