STIL has mastered the glassblowing technique
STIL offers a range of specific glass measuring instruments to be used by the French weather service, farmers, laboratory technicians, cooks or private individuals. Whether it's a steriliser thermometer, confectioner, psychrometer or even a barometer, you can find all our products suited to the current needs of a professional or private individual.
STIL has been blowing glass for thermometers for more than 75 years.
The trade of glassblower for thermometers or barometers is very specific and requires several years of apprenticeship training within the company. This is the case, even if the apprentice learned to blow glass at the Lycée Dorian, which trains its students in the glass industry.
The glassblower reads an OF (order of manufacture) and prepares the materials he needs: borosilicate glass, drawn glass in tube or rod. He measures them and cuts them with a diamond saw or a knife. He then sits at his bench and lights his torch and heater. City gas, propane, oxygen and air are used depending on the operation: handle with care.
There, after a preheating phase, the long movement of turning the rod or tube in front of the flame and doing what you want with it begins. We pull, round, blow, gauge, form a snail, a shoulder, a point… We can also weld together different diameters of metal with glass.
It's beautiful: the flame, the soft glass… How easy it looks.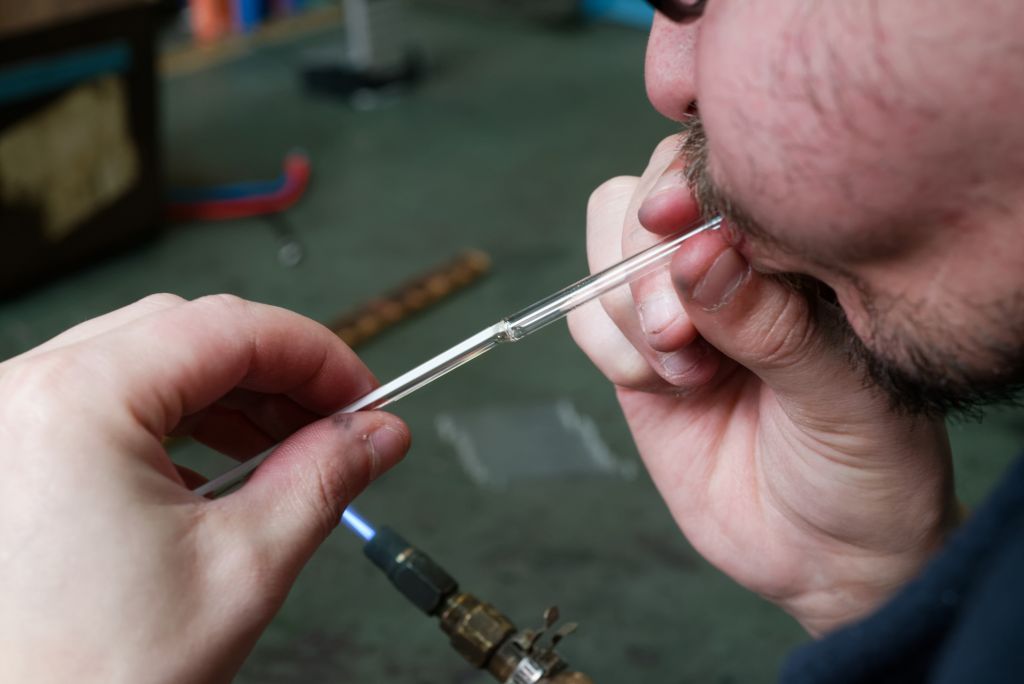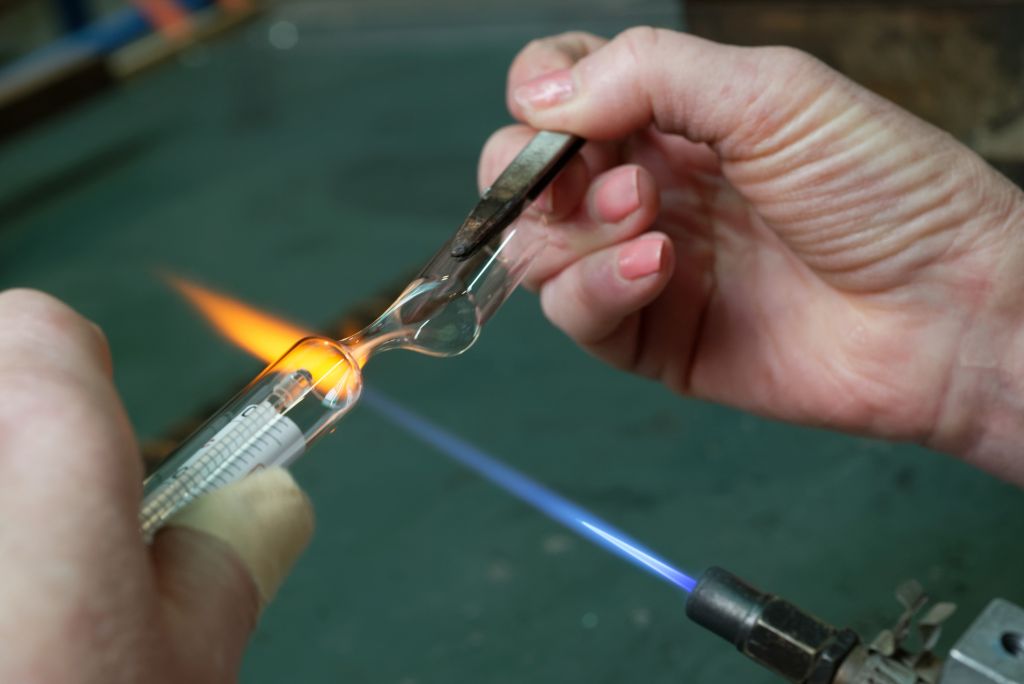 Measuring instruments and glassblowing
From this comes a small 5cm thermometer for the SNCF rails or a 1.5m immersion thermometer for a wine vat. A round thermometer for a barometer or an angled thermometer for ground temperature.
We therefore produce thermometers of all types: industrial, laboratory, agricultural, for wine, for Météo France, the oil industry, but also custom-made tubes to repair an enamelled advertising thermometer or a barometer. All of this is produced in series or in individual units.
The future of glassblowing
But what is the future for this old glass thermometer ? This instrument, which is almost a work of art, has been replaced in part by electronic thermometers.
And yet it remains, because it holds real assets in this technological world. If it is not broken, a thermometer already remains accurate and reliable for life or almost that long: it is therefore made to high standards of quality to last for the long term, unlike electronics. Secondly, it does not consume any energy: it therefore works for a very long time without a battery and regardless of the conditions: rain, snow, wind, sand, frost
STIL remains very attached to its historical know-how, its roots. The company is working to maintain this by training new apprentices and investing in a modern and sustainable production facility.